Hello everyone! It's been a long time since my last post. That's why I'm very happy to be online again and share with you my story. A lot of things have changed, fortunately – for better! The main reason I write this post is the trip that we have made recently. Four years ago I was writing about our plan to visit Krakow and to go on Auschwitz tour. We made it and were surprised how wonderful it was!
It so amazing how things are changing everyday. If you have children you know what it means. Your child is growing so fast and suddenly becomes an adult. Well, my children aren't adults, but they have changed incredibly since my last post here. Last time we were wondering if we should take them on the Auschwitz tour. Now we are sure that it was a great idea to take them with us. Anyway, let me tell you about the whole polish trip.
Magnificent Krakow old town
Finally! We've decided to visit Krakow and booked our flight. It took us a few hours to get there and during the flight we were reading Krakow guide. At the airport, we took the transfer to our hotel and were ready for an adventure. Krakow old town swept us off our feet – it was so beautiful! The architecture of buildings and streets was amazing. We were making pictures like crazy. Thanks to the Krakow guide, we were discovering the most wonderful places in the Krakow old town. As we all love to try new kinds of food – we have visited traditional Polish restaurant with pierogi. The children weren't so enthusiastic about this, but for me it was really delicious. After the Krakow old town we have visited other districts like Kazimierz, Podgorze and Nowa Huta. Each of them was so different and original.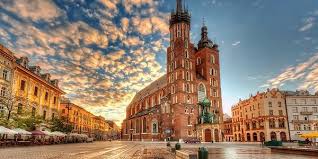 Auschwitz tour
We were really happy to finally visit Krakow, especially kids, but our main plan was to go on Auschwitz tour. We've booked a guided tour with KrakowDirect company, said bye to the Krakow old town and went to Auschwitz early in the morning. What we saw there was thrilling and terrifying for all of us. However, we've realized how important is that place in the history, not only Polish. Everyone in the world should remember what was happening during the World War II in concentration camps. Auschwitz tour was very difficult for us, but I would never regret going there with our children.